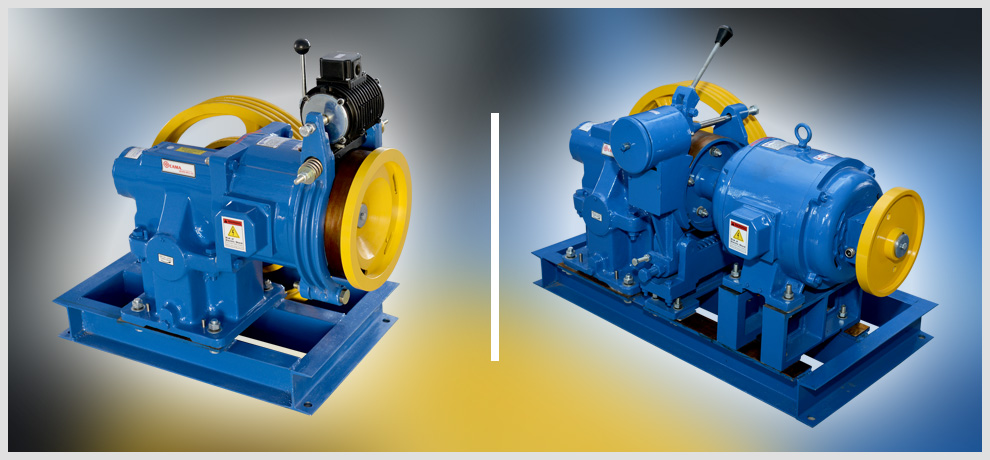 Elevator Traction Machine
THE MACHINE
Keeping such a view, how to produce our same product qualifying higher quality in low cost for our customer...

In lieu of this, we are proud to innovate and create the new designed elevator traction machines having Cama Gears Mfg. Co.
Co. branded which is attracting affordable cost with supreme quality maintaining...
GEAR HOUSING:
Made high-strenght close grain quality cast iron as per IS 210
WORM:
Carburized and hardened high tensile strength steel, including a full control by magnetic particles. In order to assure the values of Pressure Angle, Pitch And Run (fr.) Worm Tested As per the norms under the keen inspection
CROWN GEAR:
Made in Pb2c, phosphorus bronze centrifugal casting, to achieve good strength and perfect homogeneity of material structure with gear fracture and wear resistance for good sliding properties, shrink fitted and bolted with C.I. Center. We are manufacturing the worm wheel as per international standards to provide extra strength to the machine.
WORM WHEEL SHAFT:
In special alloy steel, hardened tempered and ground; supported by an tiwear sleeve bearing.
THE WHEEL & WARM:
The Wheel & Warm are perfectly matched to minimized backless taking place.
TRACTION SHEAVE:
In high grade cast iron to achieve good strength & wear properties.
BRAKE:
Independently acting shoes provided according to the international rules, 110V D.C. Electromagnet.
MOTOR:
The main feature of motor is its high starting torque, low staring current and slip smooth accelerations and performance. In according to IS : 8151, 1976 Specification.
Salient Features:
Electric motor suitable for application on wider voltage range.
Same unit can be used for DOL and VVVF application.
Integral mounting of electric drive (stator and rotor) on high speed shaft.
Compact dimensions and low weight.
Monoblock housing of graded cast iron.
Traction sheave of S. G. Iron.
High speed shaft made out of hardened Alloy Steel.
Worm wheel made out of special grade of Phosphor Bronze to achieve longer life.
Brake operating mechanism of electromagnetic, dual magnet type to operate on 110V DC.
Suitable to operate on mineral oil.
Lubrication of gear and bearing by oil splash from the sump.
Ease of maintenance at site.